One year after the pandemic began, here we are, getting vaccinated and trying desperately to go back to what society used to be. You know, with interacting with people, going to places, and whatnot.
The great curse and the great benefit of anime is that episodes are basically 22 minutes, which makes shows easily binge-able and accessible. Got half an hour? Throw on an episode of something. Not quite sure that you want to go to bed yet? Go ahead and watch that extra episode—it's less than half an hour.
Anyway, you know the drill at this point; here are some shows I've watched over the last four months.
A Certain Scientific Railgun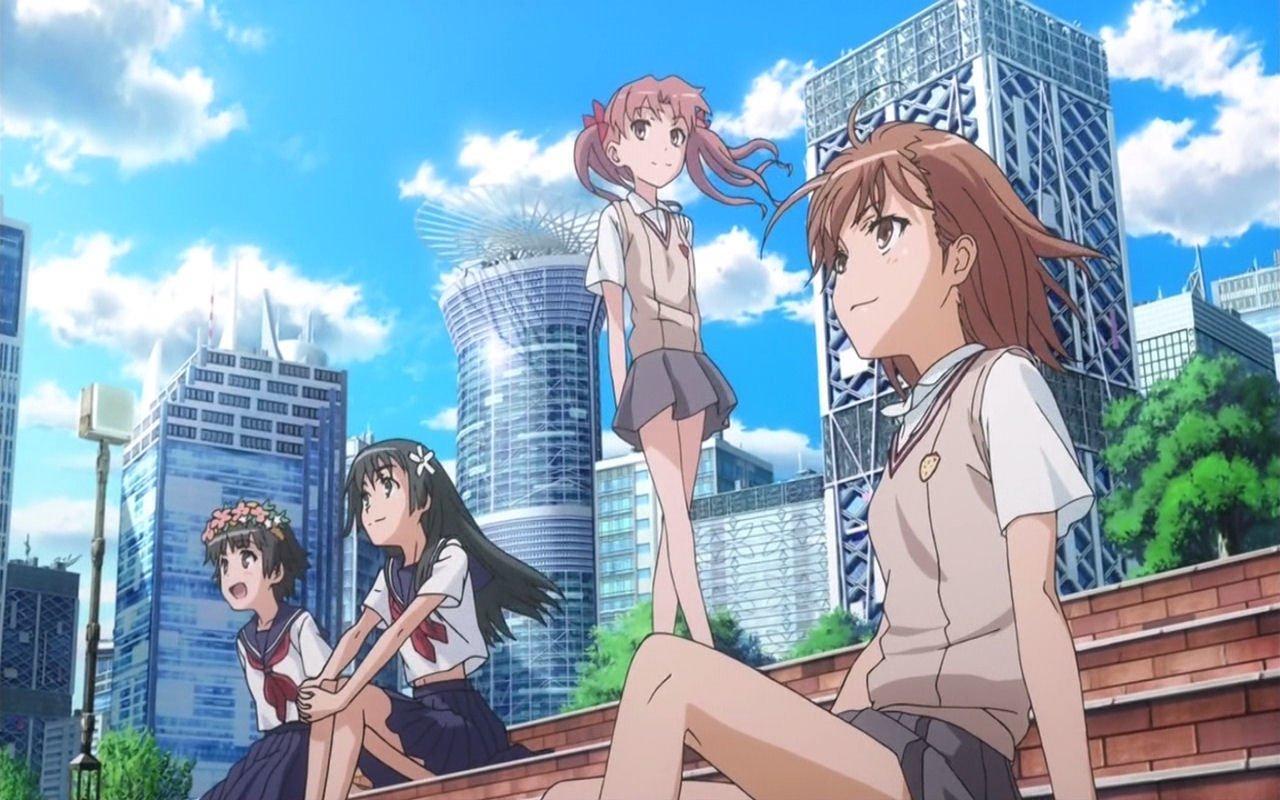 One-sentence description: Teenage girls with superpowers do teenage girl things and also superpower things in a futuristic city full of science crimes
You should watch it if: You just can't decide between school drama, bigtime action, and wholesome slice of life shenanigans, and want it all with memorable characters
Watch it on: Funimation
A Certain Scientific Railgun is my favorite anime show, something I can say after watching a bunch over the past year. There are better shows out there. There are shows that have meant more, emotionally, to me. But there isn't a single anime that pulls off quite the balancing act of blending so many different great traits into one show. Railgun is an action show, a drama, and comedy; it's got lovable characters in a unique and fascinating enough setting for it to nearly be its own character; it has three seasons and over 75 episodes to continue to satiate you; and, it's the show that I'd be most excited about re-watching. Railgun does right by its main characters, but it consistently finds ways to give great moments to its side characters. It knows when to play it big and play it small. It's just so much fun in a way that only animated shows can be, and that's why I love it.
A Certain Magical Index
One-sentence description: A high school boy and a teenage nun with a cavernous stomach find themselves in the middle of magical and scientific battles
You should watch it if: You want to deepen your understanding and enjoyment of Railgun, but you live in a world where there are no other good pieces of media to enjoy
Watch it on: Funimation
First thing's first: Index is set in the same world as Railgun, and shares some characters with it (the opposite is also true). But where Railgun has a pretty sharp focus on its four main characters and a commitment to a story arc over half a season, Index is…all over the place. By my count, there are six individual arcs in the first season alone, which dilutes the impact that any of them have. That continues through the second season. I understand that this is because of the differences in adapting source material, but you see, I'm a normie dub anime watcher who gives no cares about the original manga or light novel. Index is a show about magic, but it manages to pull of some magic of its own: it has an interesting premise, some interesting characters, and interesting plot, but somehow is significantly less than the sum of its parts. It's a bad show, is what I'm saying.
The other thing about this show that I will complain about is its repeated sleaziness. In the anime industry, this is generally known as "fan service." But in reality, that term is just polite shorthand for cheap sexism. We're talking unnecessary and very male gaze-y shots of boobs and butts, ridiculous female character designs, and an absurd amount of the main character walking in on female characters in varying stages of undress while they're showering or changing or whatnot. It's dumb and distracting, and part of the reason why I've enjoyed characters with female characters as leads is that those shows tend to treat their characters with more respect, and that truly matters.
Ghost Stories
One-sentence description: An English dub studio with nothing to lose turns a mediocre anime about ghosts into a hilarious spoof of itself
You should watch it if: You've ever thought to yourself, "I like Sword Art Online Abridged but wish it was official"
Watch it on: Crunchyroll (no subscription required)
At the turn of the millennium, an anime called Ghost Stories aired in Japan. The anime followed preteens as they fought ghosts with the help of the main character's deceased mother's notebook. Unfortunately, it flopped. Unfortunately, they were still contracted to put out an English dub. Fortunately, they gave the dub team leeway to do the dub as they saw fit. Fortunately, the dubbing team decided not to play it straight and to throw any scrap of sincerity out the window. They turned it into a self aware, referential, fourth-wall breaking dark comedy that is simply hilarious. The core story is pretty boring and has shoddy animation. But the dub polishes this particular turd until it shines like a diamond.
I haven't watched all of it. Probably won't watch all of it. But man oh man, it's worth firing up now and again for some laughs.
Carole & Tuesday
One-sentence description: Two young women from drastically different backgrounds have a chance meeting, start to make music, and navigate the music world together in a unique sci-fi setting.
You should watch it if: You enjoyed K-On! but thought it needed more drama, or if you just want a wholesome show with a fantastic soundtrack.
Watch it on: Netflix
From the director that brought you…Cowboy Bebop?…brings you Carole & Tuesday, a show with a heck of a lot of heart and a soundtrack that's almost too good to be true. In a bit of an odd move, the show's music is recorded entirely in English as opposed to Japanese. But no matter: that just means that its music is more accessible to English viewers, and good heavens the soundtrack is incredible. The show has some warts, but you won't notice them, because it's a feel good show in a time when feel good shows are more important than ever.
Devilman Crybaby
One-stentence description: Start with demon blood, add an irresponsible amount of horniness, stir in just the right amount of extreme violence, and garnish with a heaping of nihilistic absurdism; serve hot and bothered.
You should watch it if: You like your stories dark, violent, and depressing, or if you watched Game of Thrones and thought to yourself "I want that much sex and violence, but animated and infinitely weirder"
Watch it on: Netflix
A coworker of mine kept bagging on me to watch this, so fire it up I did and get through half the episodes I did. Look, it's not my cup of tea. It is gratuitous in so many ways, and its hyper-stylistic nature that invokes 300, Watchmen, and Sin City wasn't enough to hook me. The story is about a crybaby teenager who gets a devil implanted inside him and becomes a devilman, rather than a devil, because of his crybaby-ness and empathy. But watch the first episode or two if what I'm writing here sounds remotely intriguing, because there is absolutely no way you would believe me about anything that happens if I told you. You're just gonna have to experience it yourself.
Darling in the Franxx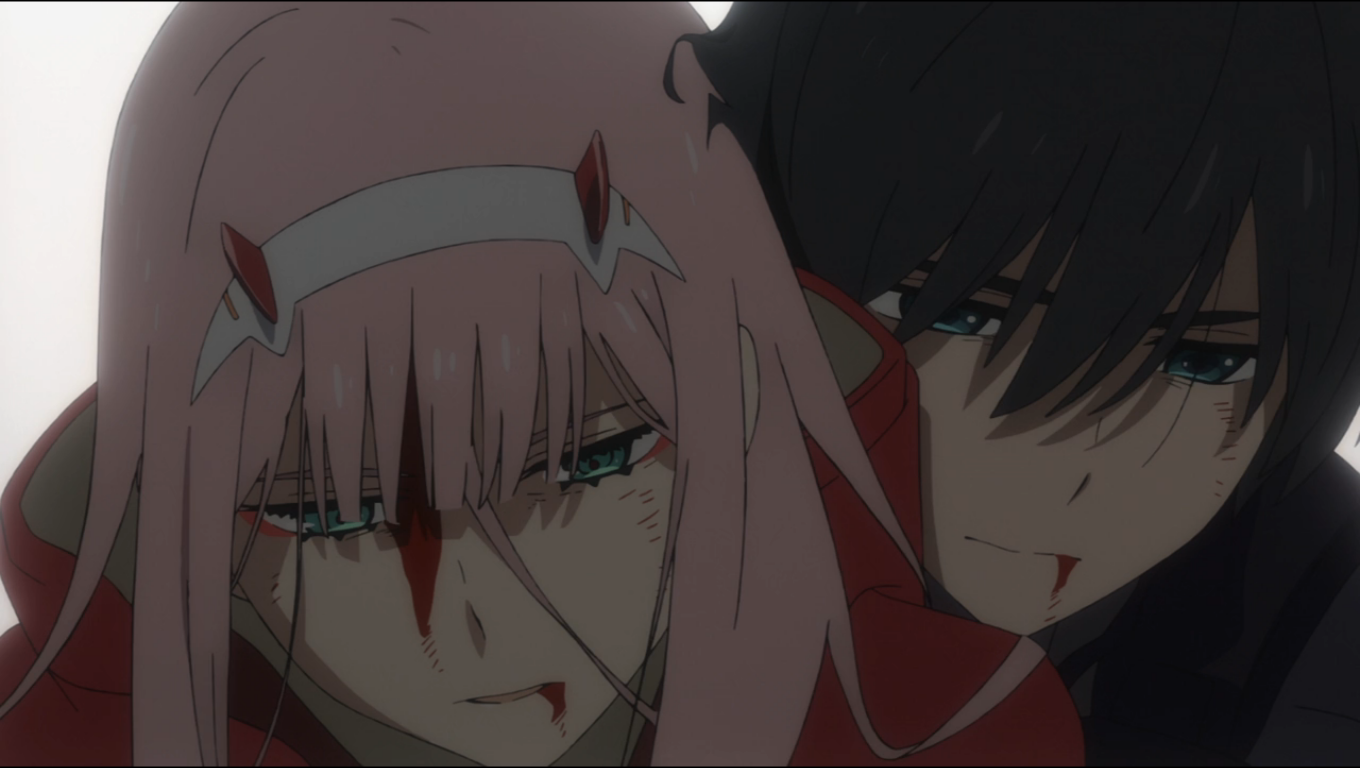 One-sentence description: A mech pilot loses his piloting skills but finds out he can still pilot with one intriguing, horned woman in a dystopian future
You should watch it if: You want to watch Robotech, Neon Genesis Evangelion, and Pacific Rim, but all at once and with even more teenage hormones.
Watch it on: Funimation
On its face, Darling in the Franxx is an exceedingly dumb name, but the female lead calls the male lead "darling" and he pilots a mech called a "Franxx" so it's as literal as you can get. The show's plot is messy, especially in the second half, and it never quite pulls the details together. Additionally, it at times feels like a Neon Genesis Evangelion ripoff, at least at the surface. However, the show's emotional core remains true throughout, as it follows a group of teenagers who are trying to grow up in a hostile and difficult world and its two leads who are just trying to figure out what it means to be human. It makes you want to watch the next episode, and that's always a great trait.
Wave, Listen to Me!
One-sentence description: An extraordinarily witty, train wreck of a 26-year-old gets a radio hosting gig in the wee hours of the morning and struggles navigating her new job and her life in general
You should watch it if: You're a fan of The Office, Parks and Rec, or any other workplace comedy, but want it set in Japan because anime
Watch it on: Funimation
Most anime feature young protagonists in their teens. Wave, Listen to Me! is rare in the anime world because it features 20-something professionals navigating work and life. It's an adult comedy, not because of sex or violence but because it's about adults in the real world, and that is extremely refreshing. Its writing is truly excellent, and actress Terri Doty almost literally breathes life into the charismatic and relatable lead character of Minare Koda. I desperately wish this show was longer than its 12 episodes, not just because its subject matter is rare, but because it's hilarious and poignant in a way that few other shows, anime and otherwise, are. I desperately hope it gets a second season, so go out and watch the dang thing so it does, I beg you.